3 January 2018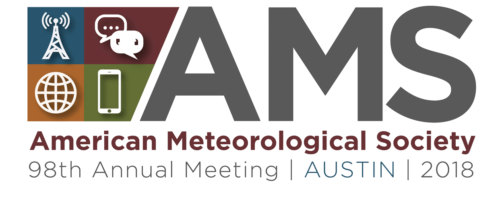 Austin, Texas – Aeris, LLC is excited to announce support of the 2018 American Meteorological Society (AMS) Meeting! Dr. Paul Bieringer will be a program chair at the 20th Joint Conference on the Applications of Air Pollution Meteorology with the Air & Waste Management Association (A&WMA) and will present a paper with Dr. Aaron Piña. Dr. Piña will host a joint session with the 20th Conference on Atmoshperic Chemistry, present a paper as part of the Modeling and Prediction of Weather and Dispersion in Mountainous and Complex Terrain Environments session, and present a poster as part of the Broader Impacts session. In addition, Aeris is a proud sponsor of the Women in Atmospheric Sciences Luncheon event hosted by the Earth Science Women's Network (ESWN).
Dr. Bieringer will host the Emerging Technologies in Atmospheric Dispersion and Air Pollution Modeling session. During this session, Dr. Bieringer and Dr. Piña will present their paper, co-authored with H.J.J. Jonker, M. Sohn, and Aeris staff Mr. George Bieberbach, Large-Eddy Simulation (LES) Based System for Producing Coupled Urban and Indoor Airborne Contaminant Transport and Dispersion Solutions. This presentation will describe an LES atmospheric and coupled outdoor urban dispersion model implemented on a Graphics Processing Unit computer that has been linked to a building interior air exchange model. This system, referred to as the Joint Outdoor-indoor Urban LES system, is a physics-based quantitative modeling system that is being developed to provide high-fidelity simulations of urban and interior pollutant concentrations for use in the testing and evaluation of operational urban emergency response modeling tools and subsequent enhancements to these systems. Additional information about this capability can be found on our project page: Urban Coupled Indoor-Outdoor Modeling and Synthetic Environments.
Dr. Piña will host the Use of Satellite Observations for Air Quality Applications session, a joint session between Dr. Bieringer's conference, the 20th Joint Conference on the Applications of Air Pollution Meteorology with the A&WMA,  and the 20th Conference on Atmospheric Chemistry.
Dr. Piña will present his paper Atmospheric Transport of Agricultural Nitrogen Emissions from Eastern Colorado into Rocky Mountain National Park as part of the session Modeling and Prediction of Weather and Dispersion in Mountainous and Complex Terrain Environments. This presentation will discuss the meteorology that precedes and occurs during days in which upslope winds cause increased deposition of agricultural and urban nitrogen in the Rocky Mountains, how this knowledge was leveraged to create a pilot early warning system that alerted agricultural producers when these days were forecast, and the results of three years of operating the early warning system.
Dr. Piña will present a poster with K. Ryder Fox, Retaining LGBTQ+ Students and Early Career Professionals in STEM through Holistic Engagement. This poster will discuss retention challenges of LGBTQ+ people in the STEM community and how this population can be best supported for success. Insight and resources will be offered for educators and mentors seeking to holistically engage this community.
Dr. Piña also organized the CoRiolis Reception which brings together LGBTQ friends and allies to mentor, network, and connect with individuals who share common professional and personal interests. This event, hosted by the AMS Board of Women and Minorities, is open to students and professionals from all levels in addition to their relatives.
Aeris encourages all attendees of the AMS meeting to attend the 2018 Women in the Atmospheric Sciences Luncheon. Panelists Dr. Valerie Taylor from Argonne National Laboratory, Dr. Patty Lopez from Intel Corporation, Ms. Tracy Hansen from NOAA's Global Systems Division, and Ms. Jessica Mink from Smithsonian Astrophysical Observatory will discuss the importance of inclusion and diversity in atmospheric and computational science and related fields. The Earth Science Women's Network is also hosting the Earth Science Women's Network Annual Networking Reception. More information about these events is included in ESWN's news release.