On May 11, 2022, NASA awarded Aeris a Phase II SBIR contract to continue the development of the "Microscale Weather Based Unmanned Aircraft Systems Traffic Management Optimization System".  The Phase I effort developed a prototype traffic management system for future Unmanned Aircraft Systems (UAS) traffic management (UTM) and advanced air mobility (AAM) operations by combining high-resolution flow field output from JOULES (Joint Outdoor-indoor Urban Large-Eddy Simulation) with a graph-based framework, allowing for the optimal and safe integration of small UAS into low-altitude airspace. Phase II extends the proof-of-concept software developed in Phase I to support infrastructure and linkage to real-time input and output data streams to meet the needs of UTM and AAM airspace stakeholders.  The intent is to demonstrate an operational system that ingests high-resolution, turbulent resolving weather data from JOULES, uses the data to select safe and optimal routes tailored to each sUAS, and provides flight schedule guidance in real-time.
"During Phase II, we look forward to connecting the system to numerical weather prediction models and enhancing algorithms to support complex airspace operations, all part of delivering a robust solution", said Dr. Andrew Annunzio.  Dr. Paul Bieringer added, "the NASA SBIR program allows developers to retain intellectual property rights."  As a result of the Phase I effort, Aeris has a patent pending for "UAM/AAM Flight Scheduling and Route Planning".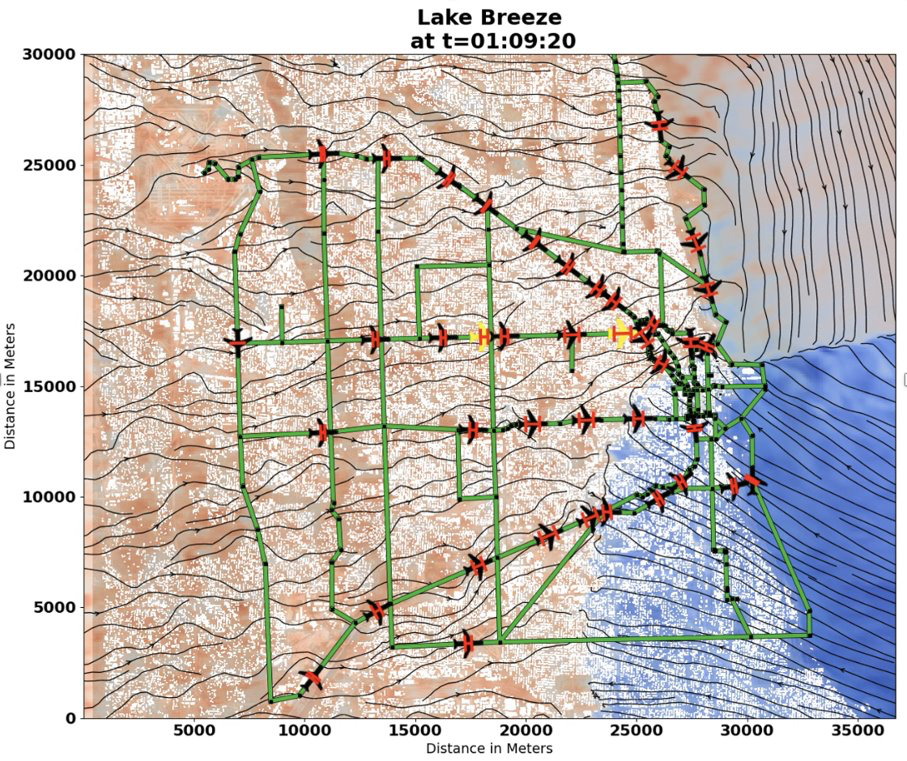 From the SBIR Phase I effort, an unmanned aerial vehicle location map during Chicago lake breeze conditions.  The red and blue colors in the background depict the westerly component of the wind speed and the streamlines denote the wind direction.  The vehicle locations are denoted by the aircraft icons, with yellow highlights indicating where aircraft speed is reduced to maintain proper aircraft separation.